Footloose maintains a fleet of boats specially designed and equipped for accessible boating.
To assist mobility impaired participants embarking and disembarking the boat we utilize a davit system with a hoyer sling to transfer participants to and from the dock.
All boats require at least one able-bodied person aboard to facility safety and optimum enjoyment while sailing.
Martin 16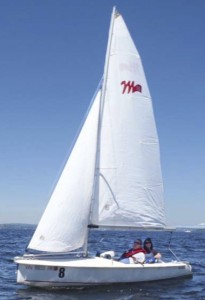 Martin 16s are fun and fast! These Martins are equipped with electronic winches that can optionally be controlled by a joystick or sip and puff, which provides full control over sail trim and rudder angle. The Martins are great for participants with limited mobility. This boat holds one participant and one able-bodied crew.
Access Dinghy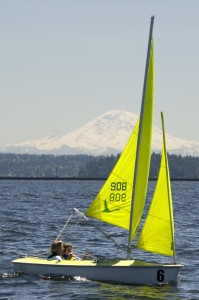 The Access Dinghy is joystick controlled, rather than a tiller, and is particularly suited to beginning and accessible sailing due to its stability and ease of rigging and sailing. This boat holds one participant and one able-bodied crew.
Harbor 20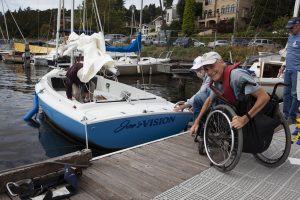 The Harbor 20 is a fun, sporty boat that has a large cockpit to accommodate family and friends. The boat is named "Joe's Vision", after Joe Bozick who was one of our skippers and long time supporter of Footloose. Joe organized several local area Rotary groups to aid in the purchase of the boat. This boat is the first boat in our fleet to go green! The motor is entirely electric and runs off a small battery pack.
Catalina 22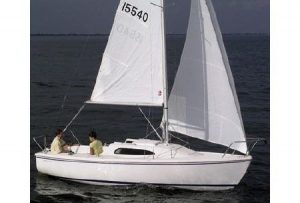 The Catalina 22 is a great addition to the fleet. It has an eight foot long cockpit that provides plenty of space for sailors to gather and enjoy the wonders of sailing. The same Rotary groups that raised money for Joe's Vision help with the purchase of this boat. The boat is named "Inspiration".
Boston Whaler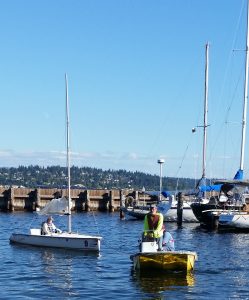 The only powerboat in the fleet, the Boston Whaler is used as the chase boat. The chase boat is run by Footloose volunteers and used to tow the sailboat in and out of the marina and ferry items or people when the sailboats are out.
Equipment Trailer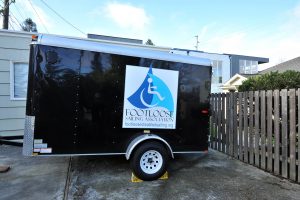 This cargo trailer has faithfully carried all of the Footloose equipment between events. This little trailer contains the magic stuff that allows us to get sailors checked in, registered, and safely out on the water.