Footloose maintains a fleet of boats specially designed and equipped for accessible boating.
To assist mobility impaired participants embarking and disembarking the boat we utilize a davit system with a hoyer sling to transfer participants to and from the dock.
All boats require at least one able-bodied person aboard to facility safety and optimum enjoyment while sailing.
Martin 16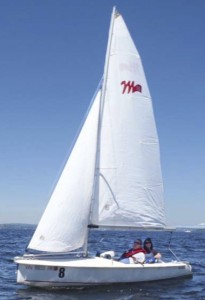 Martin 16s are fun and fast! These Martins are equipped with electronic winches that can optionally be controlled by a joystick or sip and puff, which provides full control over sail trim and rudder angle. The Martins are great for participants with limited mobility. This boat holds one participant and one able-bodied crew.
Access Dinghy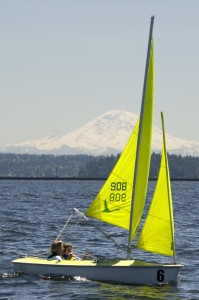 The Access Dinghy is joystick controlled, rather than a tiller, and is particularly suited to beginning and accessible sailing due to its stability and ease of rigging and sailing. This boat holds one participant and one able-bodied crew.
Columbia 21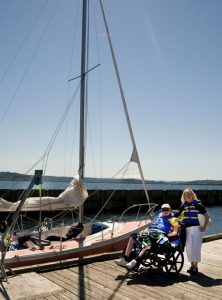 At 21' long the Columbia 21 is Footloose's "big boat". These boats are capable of taking out groups and are particularly suited for participants with caretakers. This boat holds up to four participants and two able-bodied crew
Boston Whaler
The only powerboat in the fleet, the Boston Whaler is used as the chase boat. The chase boat is run by Footloose volunteers and used to tow the sailboat in and out of the marina and ferry items or people when the sailboats are out.